Gas Anesthesia
We provide the safest anesthetic protocol during our surgical procedures. We highly recommend pre –anesthetic blood work to ensure your pet is healthy for surgery.
---
Laser Therapy
The Lena Vet Clinic offers laser therapy as a pain free treatment option for our patients. Laser therapy is painless to the patients; in fact most of them relax and enjoy their therapy session!
Laser therapy is commonly used on patients to:
decrease pain and increase mobility in patients with arthritis
accelerate healing in patients with

swelling or injury
surgical incisions
fractured bones
wounds
chronic ear infections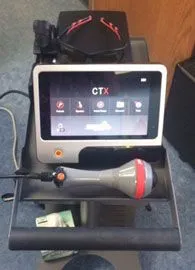 ---
Digital Radiograph
Our digital x-ray provides us with immediate results to help us better evaluate and treat our patients. We commonly use our x-ray to diagnose a variety of ailments including: GDV (bloating), foriegn body, heart failure, urinary stones, broken bones, internal tumors, respiratory disease and much more. We are also experienced in determining the number of puppies or kittens in late term pregnancy via x-ray.
---
Preventative Care
We recommend an annual exam with routine vaccinations for all our patients to help us better evaluate the health of your pet and diagnose potential health concerns as early as possible.
---
Dentistry
Dental cleanings are a very important part of your pet's routine healthcare. Keeping up with their oral health may help avoid or eliminate other secondary issues including bad breath, difficulty eating or loss of appetite, gingivitis, poor heart health, sepsis, liver abscess, or bone infections. Our dental services include ultrasonic cleaning, polishing, fluoride treatment, and tooth extraction when necessary.
---
In-house Blood Machines
One of the most important tools for diagnosis of a sick pet is our blood laboratory. Our in-house blood work provides our clients peace of mind with quick results during your visit. We also recommend blood work for our pre-surgical or geriatric patients. Some diseases we can quickly diagnose during your wellness visit include:
Liver disease
Kidney disease
Pancreatitis
Infection
Diabetes
Thyroid conditions
And much more!
---
Surgery
Our veterinarians offer routine surgery, such as spays, neuters, and laser declaw, as well as more extensive or emergency surgeries such as a foreign body removal, mass removal, c-section, and twisted stomach (GDV) correction.
---
Full Pharmacy
We maintain a complete inventory of pharmaceuticals, flea and tick products, and heartworm preventatives to meet the needs of your pet. We also carry a full line of Hill's prescription diets. In cases when we don't offer a product needed for your pet, our online pharmacy is available with shipping to your home.
---
Specialist Consults
We will provide referrals to specialists in medicine, surgery, oncology, and other departements if advanced care is needed for your pet.
---
Microchip Placement
Here at Lena Vet Clinic, we strongly believe in the use of microchips as a safe and effective way to help return lost pets to their owners. Microchipping can be done during any routine visit.
---
Ultrasound
Ultrasound is a non-invasive way for us to better understand or identify your pet's medical condition. Our doctors and technicians have undergone advanced ultrasound training and we accept referral cases from other clinics. We also offer ultrasound for pregnancy, depending on gestational stage.
---
Dietary Counseling
Nutrition is essential part of your pet's overall health. Obesity in pets is one of the most common health problems we see and often leads to other health concerns, taking years off your pet's life expectancy. We are happy to help you determine the correct diet to help your pet lose weight or manage a health condition.
---
Cremation Services
We offer our clients the option to cremate their beloved pet when the time comes and return the remains to you as soon as possible, if you choose. Our private cremation service also includes a clay paw keepsake, if requested.